Episodes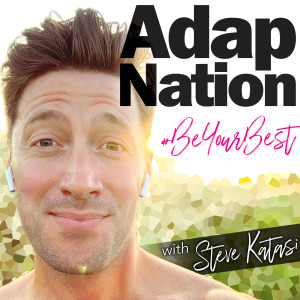 Wednesday Feb 17, 2021
Wednesday Feb 17, 2021
Freddie Bennett has a fascinating story of highs, all the trappings, tragic loss, devastating lows, and being utterly let down by the traditional "Self Help" industry. Funtime Freddie somehow escaped his downward spiral of drugs and alcohol to becoming a modern day Forest Gump with his endurance pursuits and has truly found his "second mountain".
This is a discussion of plateauing on your first mountain - your first main chapter in life. A discussion of reinvention and the catalyst of change. A discussion of taking psychological value from pushing your body to unthinkable extremes. A discussion of finding your centre and your drive, when all the traditional signals don't move you.
This episode is for everyone who is succeeding at some level in life, and yet life is without meaning and fulfilment. It's for those that know there is more to life and more to themselves than is currently being expressed, but they just can't put their finger on what is broken, missing or wrong.
Plus, Freddie is captivating with his self depreciation, humour, Funtime Freddie antics and brutal honesty.
Check out the Full Show Notes of What's Discussed -  https://adapnation.io/158-freddiebennett/ 
The #BeYourBest Journey : https://adapnation.io/beyourbest-journey/ (10% off coupon OWNIT-2021)
Where to find FREDDIE BENNETT and his work:
▪︎ Instagram - @freddieexplores
▪︎ Website - https://freddiembennett.com
Referenced Content / People:
▪︎ BOOK: The Second Mountain
▪︎ PODCAST: Mike McCastle - Suffering is Your Path to Purposeful Greatness ~Mike McCastle
▪︎ PODCAST: James Ketchell - Life Lessons & Unique Insights from The Ultimate Global Explorer James Ketchell
▪︎ PODCAST: Brian Keane - Brian Keane on his Extreme Endurance Pivot, Social Media Biz & Mental Toughness
⭐️⭐️⭐️⭐️⭐️
If you like this and other AdapNation episodes, please don't forget to subscribe to the channel, as well as leaving a 5 star review and letting friends and family know of this Podcast on Social Media.
AdapNation Useful Links:
The #BeYourBest Self-Optimisation Journey
▪︎ Social - Instagram & Facebook & Tons of Free Website Content
▪︎ #HyperWorkouts - Expertly written Gym Workout Plans, with video guides, print-outs & HeavySet import
▪︎ AdapNation Butler - An Online Personal Assistant that can inspire easy and tasty Home-cooking
▪︎ AdapNation Food Diary - 100's of Tasty Healthy Meal Ideas, that are focussed on helping you thrive