Episodes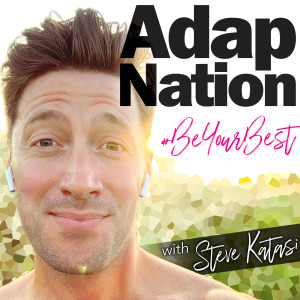 Thursday Nov 19, 2020
Thursday Nov 19, 2020
We need more genuine conversation on how people are coping and feeling this year. Not the intellectually morally right answer. Not the politically correct or virtuous answer. Not the consensus thoughts and feeling we've been told to experience and communicate.
Instead we need more real, honest and raw exploration of our complex thoughts that the COVID response is inciting.
To help get this conversation started, Bryn joins us for an adhoc conversation that turned out to be both soothing, worrying and optimistic all at the same time!
This is a shorter format than our specialist topic discussions, closing in at just under an hour. I hope you enjoy it, and it acts as the seed in which to expand this conversation with your friends, family, colleagues and even with he AdapNation community.
The #BeYourBest Journey : https://adapnation.io/beyourbest-journey/ (£10 coupon BESTYEAR-2020) 
Here's a flavour of what we discuss:
Bored of the propaganda, yet obsessed with the science

 

How being time-poor acts as an insulator against the dark truths

 

The good and bad of lockdowns and restricted social experience

 

This is a year for the history books. "Let me tell you a story about 2020"

 

Is our fear of accelerated change completely rational?

 

Worries on not knowing how to prepare our kids for the uncertain future

 

Constant battle with despair, apathy and frustration at our fellow man

 

The power plays of protection, dependance and fear

 

2020 has been the year of growth, learning and awakening

 

The worrying distraction this year has created

 

The thinking man's choice of suffering through the dark reality of truth vs naively living a lie

 

How COVID is thinning out friendships and relationship groups through argument

 

The epidemic rise in emotional and psychology isolation

 

Life was not a bed of roses before COVID, but is forced change (for the better) OK?

 

The concerns with the rushed global push of vaccines

 

How best to navigate the next 4-5 months - dependant on your current frame of mind

 

The problems independent critical thinkers pose to leaders, and why they must be handicapped

 

Why does Steve remain optimistic about the effects of this year on humanity?

 
Referenced resources:
▪︎ COVID+ Insights - the AdapNation in-context COVID dashboard 
▪︎ COVID Content - a collection of our best COVID content 
▪︎ AdapNation on Facebook - joint the community which reaches 1.5M+ people a month 
▪︎ BOOK: Letting Go by David R. Hawkins 
⭐️⭐️⭐️⭐️⭐️
If you like this and other AdapNation episodes, please don't forget to subscribe to the channel, as well as leaving a 5 star review and letting friends and family know of this Podcast on Social Media.
AdapNation Useful Links:
The #BeYourBest Self-Optimisation Journey 
■ Social - Instagram & Facebook & Tons of Free Website Content 
■ #HyperWorkouts - Expertly written Gym Workout Plans, with video guides, print-outs & HeavySet import 
■ AdapNation Butler - An Online Personal Assistant that can inspire easy and tasty Home-cooking 
■ AdapNation Food Diary - 100's of Tasty Healthy Meal Ideas, that are focussed on helping you thrive