Episodes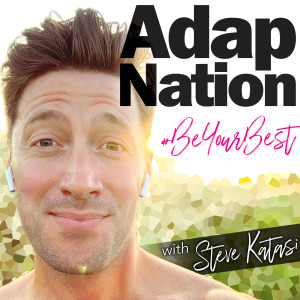 Monday Sep 28, 2020
Monday Sep 28, 2020
Dr Natasha Campbell-McBride is a renowned nutritionist, creator of the GAPS diet, author of several best selling nutritional books, and an advisory board member of Weston A. Price. 
Whilst being a Medical Doctor, Neurologist and Neurosurgeon by training and prior profession - with a Masters in Medical Science in Neurology and Medical Sciences in Human Nutrition, Dr Natasha those to abandon mainstream medicine in favour of establishing a world-renowned UK Nutritionist practice. 
Her books and diet protocol in particular - Gut And Psychology Syndrome - has transformed the degenerative and diseased lives of 100's of thousands across the globe into healthy thriving human beings. She realised early in her career that establishment medicine offered nothing for true healing and recovery. 
So, what better guest than Dr Natasha to help us understand what it takes to nourish and care for ourselves, in a truly human appropriate way? With the COVID crisis and associated fear and declining health, people really need to hear her voice right now. 
Being more specific, we're entering into he the Flu Season, as well as Pandemic Propaganda 2.0. People need to hear what actually helps them, versus all the political and media distraction that is only hurting us, our kids, our economy and our societies. 
Dr Natasha does this so eloquently and offers fascinating insights into the human body, what foods are human appropriate, the root cause of chronic diseased states, the myriad of problems with plant-based diets, and ultimately how to feed and nourish our Immune Systems this Autumn/Winter. 
There is Wellness and Immune System gold in this discussion, as well as some intriguing insights into broader political and industrial motivations to suppress the publics health status. 
Please make sure to pass this on to all your loved ones. They deserve to know what the REAL PROTECTION is against COVID-19 and diseases in general. 
Check out the Full Show Notes of What's Discussed -  https://adapnation.io/146-dr-natasha-nourishment/
The #BeYourBest Journey : https://adapnation.io/beyourbest-journey/ (£10 coupon BESTYEAR-2020) 
Where to find DR NATASHA and her work:
▪︎ Books - Gut and Psychology Syndrome, Put Your Heart In Your Mouth, Vegetarianism Explained & Gut and Physiology Syndrome 
▪︎ GAPS.me - central resource for GAPS related content 
▪︎ GAPS Nutritional Training Protocol for Coaches and Medical Professionals 
▪︎ Find a local GAPS Coach or Practitioner 
▪︎ Doctor-Natasha Blog content - One Man's Meat is Another Man's Poison! & Feeding vs Cleansing 
Referenced Content:
▪︎ Episode #97: How to Prioritise Nutrient Density with Sally Fallon Morell (founder of Weston A Price foundation) 
⭐️⭐️⭐️⭐️⭐️
If you like this and other AdapNation episodes, please don't forget to subscribe to the channel, as well as leaving a 5 star review and letting friends and family know of this Podcast on Social Media.
AdapNation Useful Links:
The #BeYourBest Self-Optimisation Journey 
■ Social - Instagram & Facebook & Tons of Free Website Content 
■ #HyperWorkouts - Expertly written Gym Workout Plans, with video guides, print-outs & HeavySet import 
■ AdapNation Butler - An Online Personal Assistant that can inspire easy and tasty Home-cooking 
■ AdapNation Food Diary - 100's of Tasty Healthy Meal Ideas, that are focussed on helping you thrive 
Comments
(1)
To leave or reply to comments, please download free Podbean or
I downloaded a podcast app and followed your channel JUST to hear this episode 🤩 Nathasha is a blessing.