Episodes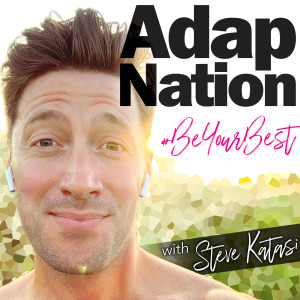 Monday Sep 14, 2020
Monday Sep 14, 2020
World-renowned Professor Ben Bikman is a leading expert on fat cell metabolism, metabolic health, insulin resistance, and the affects a dysfunctional metabolism has on healthy immune function.
What's the very best thing you can do to improve your health and those around you? Ensure you and others are Metabolically Healthy and Insulin Sensitive.
These terms sound overly technical and are far from instructive. But, it is so critically important that we as individuals, as societies, and as healthcare providers understand what it takes to be metabolically healthy.
Understand and live this one concept well enough, and you will protect yourself against the plethora of modern chronic diseases, as well as shoring up your defences against Infectious Diseases such as COVID-19 and the Flu.
This episode is scientific in nature but universally accessible and practical. Not only will you know more than almost everyone when it comes to metabolic health, insulin sensitivity and the links between metabolic and immune function, but you will also know how to achieve these states of optimal health too.
P.S. If you are coming in pretty naive to this topic, then a good place to start is actually the prior episode - episode #144 where we start from the grass roots of the metabolism and metabolic health. 
Check out the Full Show Notes of What's Discussed -  https://adapnation.io/145-insulin-resistance-bikman/
The #BeYourBest Journey : https://adapnation.io/beyourbest-journey/ (£10 coupon BESTYEAR-2020)
Where to find BEN BIKMAN and his work:
▪︎ The NEW Book - Why We Get Sick 
▪︎ Social Media (BenjaminBikmanPHD) - Facebook, Instagram & Twitter 
▪︎ Website - https://gethlth.com/about-us/
Referenced Content:
▪︎ Episode #144: How to Improve Your Metabolic Health
▪︎ Have we got Diabetes all Wrong? (Overflow Hypothesis & Jason Fung) 
⭐️⭐️⭐️⭐️⭐️
If you like this and other AdapNation episodes, please don't forget to subscribe to the channel, as well as leaving a 5 star review and letting friends and family know of this Podcast on Social Media.
AdapNation Useful Links:
The #BeYourBest Self-Optimisation Journey 
■ Social - Instagram & Facebook & Tons of Free Website Content 
■ #HyperWorkouts - Expertly written Gym Workout Plans, with video guides, print-outs & HeavySet import 
■ AdapNation Butler - An Online Personal Assistant that can inspire easy and tasty Home-cooking 
■ AdapNation Food Diary - 100's of Tasty Healthy Meal Ideas, that are focussed on helping you thrive